FUJITEC is one of Brazil's most experienced companies in providing AFC Systems. Its SmartGET System is innovative in all its features.
This system uses smartcard technology to replace paper (bus passes or tickets) and money for payment of fares on buses, trains, subways, etc., in the area of public transportation systems.
It has high-technology embedded equipment, with cryptographic processors that provide total security to the solution.
It features an interface to monitor turnstiles and other passenger control mechanisms.
It also features an interface to use GPS, aimed at controlling the routes, punctuality and speed of the vehicles, as well as a resource to be able to charge sectioned fares, per segment used by the passenger.
The solution uses a wireless communication interface 802.11b/g and GPRS module for data synchronization with the processing, control and operation center of municipal transportation systems.
The back-office software of the SmartGET system is also innovative in its functions. Using web technology, it carries out the sale of tickets over the Internet, and the users' cards are charged on the vehicles, through the onboard validating equipment. It has system for digital authentication and clearing of all payment transactions made using the card through the validator installed on the vehicles.
Reducing the costs of its customers, improving operational controls, and optimizing transportation processes, the SmartGET system also improves the lives of millions of users of public transportation systems in cities around the world.

Solution's diagram
Shipped equipment
Transport companies software
System's processing central software
All deployment and post-deployment services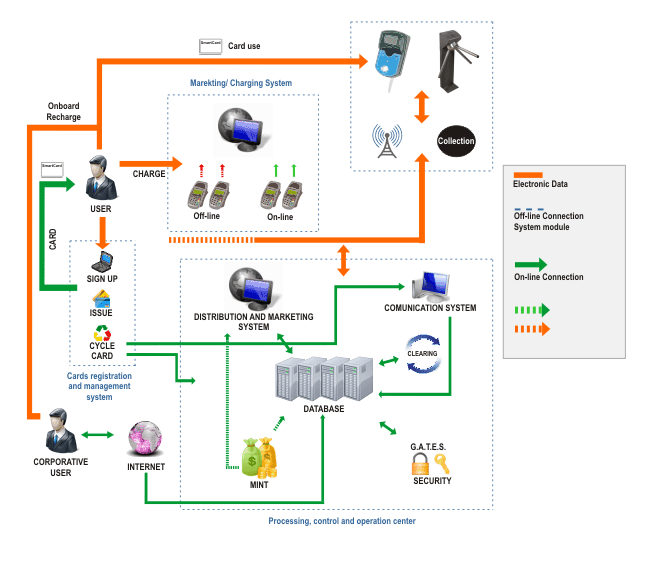 Facial Recognition Validator
Combating and controlling fraud is also an important point in the solution, in order to prevent misuse of benefits and reductions in fares granted to certain categories of passengers, including students, senior-citizens, etc.

Regarding this point, the FUJITEC solution is innovative once again, offering a facial recognition system, which can be integrated with any third-party AFC system.
Through the work of a competent and effective technical team, couting on PHDs, Masters, and experienced analysts, and through our solutions we seek to meet the needs of our customers, exceeding their expectations with appropriate technology and ensuring resources reliability, security, processing, management and optimization in their targets processes.

Main costummmers
Urban transport companies
Ship companies
Subway companies
Rail cmpanies
Others

Video
check out a video from the partnership stablished in Colombia for deploying our electronic ticketing system in 16 cities (audio in spanish).
Fujitec projects